June 2005 Update
I have never done anything the conventional way but I have always enjoyed learning from each and every experience that has passed by me. This weekend we probably did another first, at least in this era. We took a USAC Silver Crown car to the road race course.

Though we had some suspension parts that wouldn't stay underneath us, the car is a rocket. I found it very interesting that such an archaic suspension (straight axels front and rear) could feel more stable on a road race course than I could ever imagine. We had to take it home and do some modifications to the third-link system before we're able to start working on the potential of this car.

Funny as it may sound I am looking forward to seeing what the potential of this car is. It has already made my mouth open not to mention water and I've probably only done a total of only six laps. We don't even have any pictures to show you yet, but just think of a wingless sprint car running around a road race course.

I feel bad for the people just trying to figure out what to do with me, but this is a car we have left over and it is such a beautiful car we are just not willing to give it away.

The next race we will be at is Thunderhill with NASA on 6/25-26 - come out and take a look.

Once again wishing you and yours all the best this world has to offer!



Be Good,
Sean K. Jackson
6/17/05


Racing Season Begins!

In the schedule section you can find out where we're going to be the whole year in case you want to meet us.

Photo Gallery...

The photo gallery will consist of pictures and text of things we have done in the past and present.

Go to the gallery...

E-mailing List...

Sign up for our mailing list, we will keep you informed and Sean will tell you about the good and the bad, and his latest mistake.

Click here to sign up...

Request a Proposal...

Interested in becoming an Action Racing Sponsor?

Click Here to Request a Proposal...

Archives...

The archives section contains past updates that you can browse through to see what we've done in the past.

Go to the archives...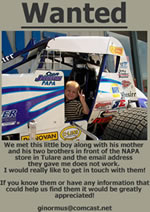 Click the image to see a larger version.