January 2005 Update
| | |
| --- | --- |
| 2005 is here and we are going Road Racing. We plan to run with NASA in the SU group and run the enduros. We have purchased a new 2005 Corvette Trans Am body from Derhaag Motorsports and will get it on our car by the April race at Button willow for its debut. | |

I will be sharing the owning and driving duties with my good friend Paul Smith. I believe we will be very competitive and win a lot of races. Paul and I have done a lot in the past together and had a lot of fun. We are both pretty obsessed with our racing and we work well with each other. I am looking forward to a good year.

We will be starting off the year in Paulís SU Mazda in Feb at Thunder Hill in the three hour race. I can`t wait for the year to start.

I have included our years schedule and I hope to see you all at the races or at least hear from you all.


Once again I wish you and yours the best this world has to offer!



Be Good,
Sean K. Jackson
1/24/05


Racing Season Begins!

In the schedule section you can find out where we're going to be the whole year in case you want to meet us.

Photo Gallery...

The photo gallery will consist of pictures and text of things we have done in the past and present.

Go to the gallery...

E-mailing List...

Sign up for our mailing list, we will keep you informed and Sean will tell you about the good and the bad, and his latest mistake.

Click here to sign up...

Request a Proposal...

Interested in becoming an Action Racing Sponsor?

Click Here to Request a Proposal...

Archives...

The archives section contains past updates that you can browse through to see what we've done in the past.

Go to the archives...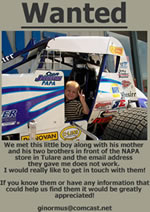 Click the image to see a larger version.