December 2004 Update
| | |
| --- | --- |
| In my last entry I said I was hanging up my helmet and you would not see me in another race car. Since then Jill and I have come to the conclusion that we are unable to do that at this time due to the fact that I would probably drive the whole family crazy if that were to happen. So let me reword my last statement, I have always said that when I retire from racing I will go road racing and build my dream car. | |

It will be a mid engine ground pounder that no man can walk by without wanting to drive it. I will bring you pictures throughout the building stages.

I will be teaming up with my good friend Paul Smith and will be running the endurance race with NASA. Our plans are to win them all. Neither one of us are afraid to work hard to make this happen so with the help of our friends and family we will give it our best shot.


| | |
| --- | --- |
| | 2004 was a great year for me. We did finish second in points in the NASA super unlimited class this year and I got to get back in a sprint car and face some things I needed to. I was not fast in it because other things have become more important to me. I am no longer willing to put it all on the line for what used to be the love of my life. It has been replaced by my wife Jill, family, and friends that I have been blessed with. |
Thanks again for your support and as always I wish you all the happiness this world has to offer.

Best Wishes for the holidays

Be Good,
Sean K. Jackson
12/16/04


Racing Season Begins!

In the schedule section you can find out where we're going to be the whole year in case you want to meet us.

Photo Gallery...

The photo gallery will consist of pictures and text of things we have done in the past and present.

Go to the gallery...

E-mailing List...

Sign up for our mailing list, we will keep you informed and Sean will tell you about the good and the bad, and his latest mistake.

Click here to sign up...

Request a Proposal...

Interested in becoming an Action Racing Sponsor?

Click Here to Request a Proposal...

Archives...

The archives section contains past updates that you can browse through to see what we've done in the past.

Go to the archives...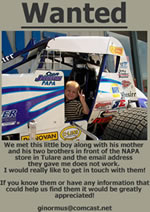 Click the image to see a larger version.