October 2004 Update
| | |
| --- | --- |
| I have found myself thinking of my wife and family as I am sitting there ready for the push truck to push me off on to the race track so that I can race my 800 hp. plus,1200 pound, 18 inch wide rear tire race car which has always been the love of my life. | |
I have realized that I am no longer willing to take the chance of not being with my wife and family because of the nature of this beast. I have always known that the people that drive these cars have to be willing to put it all on the table in order to be competitive.


| | |
| --- | --- |
| | I can honestly say I never saw this day coming but am happy to say I am hanging up my helmet and will no longer drive a race car of any kind. God has been good to me, allowing me to race my whole life. He has allowed me to win races and championships that others have only dreamed of and has blessed me again with a wife and family I wish for every man. |
I will still be involved in racing. My plans are to help a young gun I've had my eye on for a while. His name is Nick Sagmiller the son of the Sagmillers out of Chowchilla. My hopes are to help him get the same chance I got when I was his age. We will have to raise some funding and see what happens.

Action Racing will still be intact. The only change will be the driver who will be 30 plus years younger.

Thank you all for your support. Wishing you all the best this world has to offer.

Be Good,
Sean K. Jackson
10/6/04


Racing Season Begins!

In the schedule section you can find out where we're going to be the whole year in case you want to meet us.

Photo Gallery...

The photo gallery will consist of pictures and text of things we have done in the past and present.

Go to the gallery...

E-mailing List...

Sign up for our mailing list, we will keep you informed and Sean will tell you about the good and the bad, and his latest mistake.

Click here to sign up...

Request a Proposal...

Interested in becoming an Action Racing Sponsor?

Click Here to Request a Proposal...

Archives...

The archives section contains past updates that you can browse through to see what we've done in the past.

Go to the archives...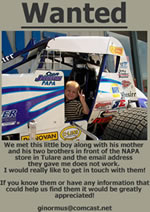 Click the image to see a larger version.