September 2004 Update
It is time to go run the car! We are going to run the California races and their last season race in Las Vegas with the World of Outlaws.

We have not been able to run as much as we would have liked to this year but I am not going to complain.
Money has been tight for everyone and sometimes you just have to cut back. Besides I have a great family and friends to spend time with.


| | |
| --- | --- |
| | Jill is the one that has to put up with me and I think she knows it is time for me to get back in the seat to smooth out my outgoing personality. I have not been playing well with others lately. |
If you get a chance come to the races and come say hi. If you can`t, please remember to cross your fingers, look up, and wish us luck around 6pm on race nights.

Thanks again for all your support!

Wishing you all the best this world has to offer!

Be Good,
Sean K. Jackson
9/1/04


Racing Season Begins!

In the schedule section you can find out where we're going to be the whole year in case you want to meet us.

Photo Gallery...

The photo gallery will consist of pictures and text of things we have done in the past and present.

Go to the gallery...

E-mailing List...

Sign up for our mailing list, we will keep you informed and Sean will tell you about the good and the bad, and his latest mistake.

Click here to sign up...

Request a Proposal...

Interested in becoming an Action Racing Sponsor?

Click Here to Request a Proposal...

Archives...

The archives section contains past updates that you can browse through to see what we've done in the past.

Go to the archives...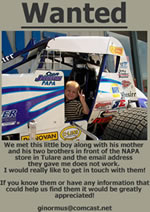 Click the image to see a larger version.