July 2004 Update
We finally got to race our sprint car and finished 15th in the main. We came home in one piece. It was a good start!
On Saturday night before the main I was very unhappy with how we were doing because we were very slow. I got waxed in the heat race starting on the pole. By turn one I was in fifth. In my whole life that has never happened to me. It was very humbling.
We changed everything on the car, three shocks, two bars, did away with the sway bar and changed tire pressures. We went out to the main with a car I had never driven before but I figured anything was better then what I had. This was a set up that we knew was a good foundation. We started it in the back of the main and I decided to hit my marks with the car before I tried passing anyone. The car felt good, the motor was a rocket and I was going to start passing. I got into a car that had spun in turn one. I bent a wheel and ladder which made us real slow.
Jill and I would like to say thanks to the people we met this weekend that made me feel at home: Harry Faria, Dan Frank, Steve Vodden, George Haig, and many more.
I would like to thank my wife Jill, Don O`Keefe, Dan (my son), and Mike for all the help in the pits. I would also like to thank the others in my corner who where unable to make it: Floyd, John, Brandon, and Ron.
All in all I learned a lot and also remembered a lot. I also remember that I have gone home before with a lot worse than just my feelings hurt. This was a good night. I am loved, I have good friends, and I am living my dream. Life is good ! Wishing you all the best this world has to offer!

Be Good,
Sean K. Jackson
7/12/04

Due to races being canceled we will be putting up a new plan by next week!
Please check out our sponsors web sites.

Racing Season Begins!

In the schedule section you can find out where we're going to be the whole year in case you want to meet us.

Photo Gallery...

The photo gallery will consist of pictures and text of things we have done in the past and present.

Go to the gallery...

E-mailing List...

Sign up for our mailing list, we will keep you informed and Sean will tell you about the good and the bad, and his latest mistake.

Click here to sign up...

Request a Proposal...

Interested in becoming an Action Racing Sponsor?

Click Here to Request a Proposal...

Archives...

The archives section contains past updates that you can browse through to see what we've done in the past.

Go to the archives...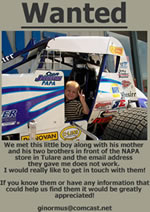 Click the image to see a larger version.